No other Artificial Intelligence (AI) than the chatbot ChatGPT managed to attract so much attention lately.
GPT stands for Generative Pretrained Transformer. The Deep Learning System was designed to generate independent texts in real time that reproduce human thought and reasoning patterns. The basis is 45 terabytes of data, which correspond to about one trillion words. This data is processed using 175 billion parameters, which can be thought of as the synapses in the human brain. ChatGPT was developed by OpenAI, a company originally founded by Elon Musk, and released to the public in December 2022.
How could ChatGPT relieve HR in the future?
HR could achieve another milestone in the automation of processes with AI support, such as through ChatGPT.
Recruiting
The chatbot is able formulate the job ad with balanced hard and soft skills, which best responds to user searches on different search engines and also select the appropriate sales channels.
By integrating ChatGPT into a business support system, responses to common questions from candidates can be automated by generating email templates.
The chatbot can screen resumes and check the suitability of applicants to the vacancy, conduct initial interviews with potential candidates and generate specific interview questions.
After the interview ChatGPT can evaluate the questions and send personalized feedback to a group of people.The feedback can help candidates to better identify their strengths and weaknesses.
Onboarding
ChatGPT can answer questions from new starters, provide detailed information about the company culture or internal policies, simplifying the onboarding process.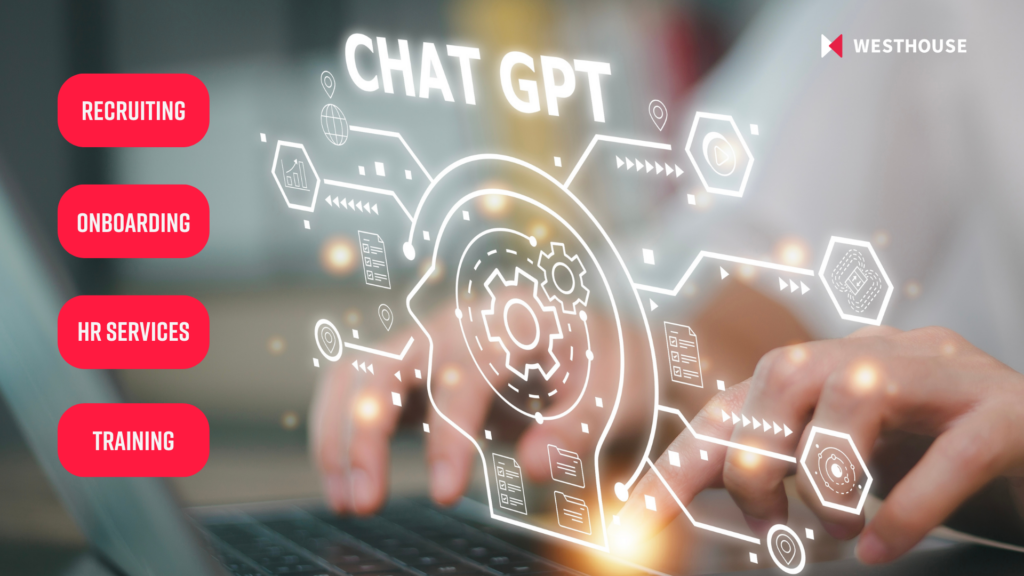 HR Services
By bundling the information in an HR chatbot, it helps employees to request leave, absence or answer questions regarding the correct behavior within a company's compliance guidelines. This makes it easy for the user to find the right form or fill it out correctly.
Development
ChatGPT can be used to create tutorials and tests as well as scripts for learning videos. It can serve as an information system for training dates and free places, provide support in booking, and answer questions about content. Some companies are working with AI to provide their employees with targeted training opportunities that are deemed optimal based on their skills, tasks, and previous training offerings.
Resumé
ChatGPT is not endowed with human sensitivity, empathy and understanding. The goal is to integrate with human experience, acting as a process facilitator for the most practical and repetitive activities. HR should continue to drive strategic decisions, manage employee relations, and provide human leadership. A key risk with AI based technologies like ChatGPT is the handling of sensitive data. And HR works with confidential and personal data on a daily basis. So be aware how you use the technology to get the best out of it.